---
PHOENIX YEES IN THE "TRUE NORTH"
Reflections on the 2012 World Yee Convention in Vancouver, BC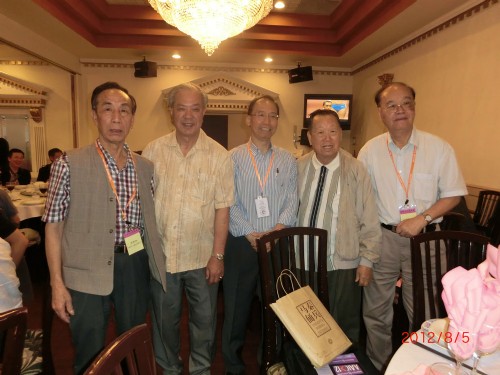 Taking the occasion of a trip to cool and wet Northwest out of sunny and sweaty Arizona, I and my brother, Chapter President Joe with his wife Mayen, arrived in the evening of Wednesday, August 1st, a couple days ahead of the 5th World Convention of Yee Fung-toy Family Associations. Our accommodations were at the Hotel of the River Rock Casino and Resort right on a riverine waterfront; as in all such venues, these were top-notch for facilities and amenities. (Convention planners, take note!)

Thursday, Chapter Adviser David Yee with his wife Stephanie and daughters Meghan and Emily, arrived to join us, along with another Chapter Adviser, Rudy Yee and his wife Mary Ann. We all then boarded for a very scenic ferry ride out to Victoria (on Vancouver Island), the capital of the Canadian Province of British Columbia. After viewing the deservedly famous Butchart Gardens, we toured downtown sights – museums, government buildings, and Chinatown – concluding with dinner aboard a cruise ship and then back to River Rock.

On Friday, the excellent light rail system of Vancouver afforded us a chance for convenient sightseeing and shopping at Aberdeen Centre, where, afterwards, for dinner, we were joined by Ms. April (Wu) Taylor, a local Phoenix community leader, with her sister Barbara and two Korean friends at the Fisherman's Terrace Restaurant. Seafood in the Pacific Northwest is justly appreciated for freshness and excellence.

The first event of the Convention was the Saturday night banquet at the Continental Seafood Restaurant in the adjacent suburb of Richmond. Grand Elder John M. Yee, and Chapter Vice President Cheak Yee, along with Jack Yee with wife Betty, and Brenda (Yee) Fung with husband William, were able to be present by this time.

Formalities of course commenced the Convention on Sunday morning; in this case, a Chinese Pavilion at a local cemetery in Vancouver was the site for the customary ancestral veneration rites. Then, everyone headed to the local Yee Fung Toy Association Hall in the Chinatown district, which of course on this occasion was filled to overflowing for opening ceremonies.

A dim sum style luncheon at the nearby Floata Seafood Restaurant (largest available for banqueting) was followed by meetings and sessions in breakout rooms, photography, and then some free time to shop before dinner. On this occasion of a Yee worldwide celebration, no less than half a dozen lion dance troupes choreographed quite an exhibition and a local celebrity newscaster performed as Mistress of Ceremonies.

Monday and Tuesday was the period during which the Canadian Yee associations convened their own national meeting; we were thus free to tour Vancouver and Chinatown. A highpoint was literally at Queen Elizabeth Park with its stunning views of the city set along its complex harbor amidst tree-clad mountains. Additionally, we had an opportunity briefly to visit the Sun Yat Sen Memorial Gardens, modest in size but memorable for loveliness laid out in the style of the famed gardens in the city of Suzhou, south of the Long River, the ChangJiang (the "Yangtze") between Nanjing and Shanghai. Similarly, Stanley Park and the kitschy Granville Island rounded out the bus touring.

Dinners on Monday night was hosted by the local Mah Family Association, in honor of the long-standing close kinship/cooperation between the Mah's and the Yee's, hailed as four centuries long. (This cousinly relationship also extended to the Tse's…)

Tuesday afforded a day long trip into the nearby Canadian Rockies – to Whistler and Shannon Falls; a ski lift ride was enjoyed by a few of us so inclined to dizzying heights of beauty. On the way back, a brief stop was made at Britannia Beach, and the evening concluded with another banquet at Continental Seafood in Richmond.

Time was taken on Wednesday to visit the Villa Cathay Care Center, which specializes in providing assisted care to Chinese elderly, as this is a facility that will no doubt become more and more of interest to the Phoenix community in due course. Grand Elder John M. Yee had a chance to visit with a dear friend of his own, and then treated all of us to a dinner at the Anytime No. 9 Restaurant to conclude a memorably pleasant excursion.

The Vancouver area had especially received extensive immigration out of Hong Kong before that British Crown Colony reverted to China in 1997; thus, not only is the cultural and cuisine scene in the area of highest quality, but Chinese-Canadians routinely achieve electoral office, especially in the suburb of Richmond. The Vancouver Yees definitely have a lot to showcase, and there can be little doubt not only that their efforts for this event were deeply appreciated, but that many of us will visit again whenever feasible with fondest anticipations.

By Edward Yue, Phoenix, Az
---
Rep. Kimberly Yee is featured as one of
Arizona's 48 Most Intriguing Women in New Book
Phoenix, Ariz. – State Representative Kimberly Yee (R-District 10), who represents the legislative district areas surrounding Glendale and northwest Phoenix, has been named as one of Arizona's 48 Most Intriguing Women of Arizona and will be featured in a centennial coffee table book now sold in select bookstores. Yee is the first Asian American woman ever elected to serve in the Arizona State Legislature.

"It is truly an honor to be named with the trail blazers, the history makers, and the outstanding women who are recognized among these 47 other women in this book," Yee said. "As a native Arizonan, I appreciate the history of my home state. With each page of this Arizona centennial celebration book, I relate to every personal story shared in the book and the contribution each woman has made to the legacy of this great state."

Arizona's 48 Most Intriguing Women is a part of the Arizona Centennial Legacy Project which celebrates the State of Arizona's centennial, marking 100 years since becoming the 48th state. The selected honorees hail from all walks of life, from a jail minister and a bullfighter to a municipal judge.

Partnering with the Arizona Historical Society and the Arizona Community Foundation, the 48 Women project was created to honor women from diverse backgrounds whose leadership and commitment in the workplace contributed significantly to the betterment of our wonderful state.

The complete list of honorees, including Yee, are listed on the website www.48women.org. Some familiar political names noted among the honorees include former Arizona Governors Rose Mofford, Jane D. Hull and Janet Napolitano, U.S. Supreme Court Justice Sandra Day O'Connor, and U.S. Rep. Gabrielle Giffords.

"Individually, the 48 Women governing board knew there were many Arizona women who are working hard every day to enhance the lives of others and to make Arizona the best state it can be," said Connie Robinson, chairperson of the 48 Women project. "The level of statewide involvement and the number and quality of the nominations confirmed that. In fact, the scope of their work and commitment is remarkable."

A coffee table book titled "Arizona's 48 Most Intriguing Women," which tells the women's stories in words and photos, was launched at a luncheon in Phoenix. The book is now available for sale at select book stores and locations throughout Arizona.